CABINET PAINTING COMPANY IN CHARLESTON & MT. PLEASANT
Your kitchen and bathroom are two of the most useful rooms, and because you will likely spend so much of your time in them, they should be beautiful. A great way to get your kitchen and bathroom looking beautiful is to get their cabinets looking great.
To do that, you can always have your old cabinets replaced with new ones. But that process can be expensive -- prohibitively so, in many cases. As a homeowner, you surely want to save rather than spend more money.
A CABINET PAINTING IS AN AFFORDABLE RENOVATION OPTION
Instead of having your old cabinets replaced, consider getting them painted. A cabinet painting will get your cabinets looking every bit as good as brand new at a fraction of the cost.
Your kitchen and bathroom should be beautiful, but that doesn't mean you should spend a fortune on them. With a cabinet painting, you can enjoy the beauty of "new" cabinets without the new cabinet price tag!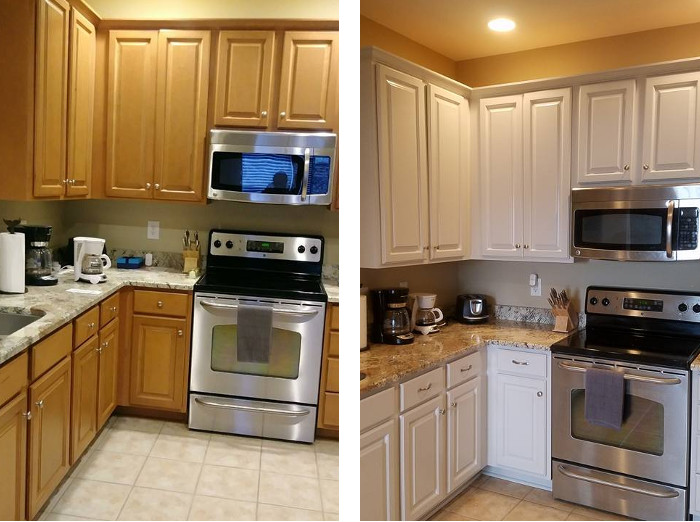 FRESHLY PAINTED CABINETS WILL ADD VALUE TO YOUR HOME
People use the kitchen and bathroom more than almost any other room, so for interested home buyers, those rooms will receive more scrutiny than any other. If your kitchen and bathroom have nasty, unappealing cabinets, you will have a hard time commanding the highest price for your home.
However, with beautiful cabinets, you won't have any problem asking for the highest reasonable based on those two important rooms. Thus, a cabinet painting proves to be a low-cost and very effective investment for your home!
GET THE BEST RESULTS FROM A PROFESSIONAL CABINET-PAINTING COMPANY
Don't try to handle your cabinet painting yourself. You'd risk ending up with a final coat that is uneven and flaky. Instead, have that job handled by an experienced cabinet-painting company such as Brabhams Cabinet Painting!
With our 15-plus years of experience and dedication to providing quality work at a fair price, you will get a high-quality cabinet painting. Ready to enjoy all the aesthetic and financial benefits that come with choosing a professional cabinet painting company? Then call us at Brabhams Cabinet Painting today for great work at a great price!
Recent Articles
How to Make Your Kitchen Cabinets Look New Again
Hiring a Mt. Pleasant painter for kitchen cabinet painting could be exactly what your home needs. If your kitchen is in need of remodeling, painting your cabinets is the affordable choice to update your cooking and dining space […]
Read More
If you are looking for a cabinet painting company in Mt. Pleasant or Charleston, SC, then please call 843-731-1821 or complete our