How to Prepare for Your Professional Cabinet Painting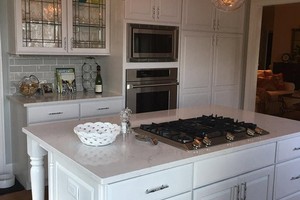 After you've committed to getting a professional cabinet painting, you need to take a little bit of time to prepare for that work. No, we're not suggesting you handle the sanding process or any other prep work that goes into a painting. We're just suggesting you handle a few simple tasks that will make your Mt. Pleasant painter's job that much quicker and easier when it comes time to get your cabinets painted:
Clear Out Your Cabinets
Naturally, your cabinets need to be cleared off before your painter can get started working on them. After all, they won't be able to get any painting done with objects in the way – and your cabinets are bound to be loaded with objects. So, they'll need to be removed before the work can get done.
By handling the clearing-off yourself, you will allow the work to get done right off the bat. What's more, you'll save money since you won't spend extra money to compensate for the extra time and work that your painter would otherwise put in to clear off the work area.
Put Away Your Pets
Objects aren't the only thing that could get in your painter's way. For instance, pets can also get in the way. With their affectionate and curious natures, your pets might want to spend some time checking out what your painter is doing. Unfortunately, though they mean no harm, your pets will only wind up slowing your painter down.
To ensure the job can get done quickly (while also keeping your painted surfaces clear of pet fur), you need to make sure your furry friends are contained before your painter arrives. Doing that will ensure the painter can work distraction-free.
Open Up Your Schedule
This might go without saying, but we need to emphasize that you need to leave PLENTY of room in your schedule for your cabinet painter. You might think the job can get done in just about no time since cabinets are much smaller than an entire room, but don't let that notion fool you: You'll need to carve out plenty of time.
After all, the process of painting cabinets can be involved. Your painter needs to remove hardware, sand your cabinets, wipe them down, and do a dozen other things just to get them painter. So, if you need to be on site the entire time, you need to make sure you clear out plenty of time to be able to do so.
Are Your Cabinets Ready? Then Call Our Mt. Pleasant Cabinet Painters Today
Of course, all of this prep by itself won't ensure a beautiful cabinet painting. For that, you need to call on an experienced cabinet painting company. In the Mt. Pleasant area, that company should be Brabhams Cabinet Painting. We offer quality work and guaranteed stunning final results for a great price.