Why Should You Get Your Kitchen Cabinets Painted?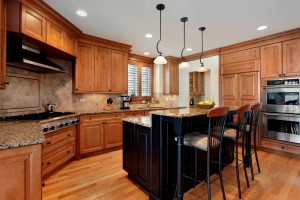 You'll spend more time in your kitchen than you might realize, so you need to provide your kitchen with the best care possible. And some of the best care you can provide your kitchen is a cabinet painting.
Your cabinets are one of the most useful and prominent installations in your kitchen, and by painting them, you and your kitchen will enjoy a variety of great benefits:
BEAUTY
The most immediate benefit you'll enjoy with a cabinet painting is that your kitchen will look beautiful, and being surrounded by a beautiful area offers some great mental and emotional benefits. Want to enjoy your kitchen time to the fullest? Then get a cabinet painting.
PROTECTION
As you cook, you'll sling flour, sauces, meat juices, and all else about, and as all of this mess lands on your cabinets, bacteria can form and work into the wood. With a fresh coat of paint, though, your cabinets can enjoy an extra layer of protection against harmful bacteria, especially if you opt for a high-gloss coating.
VALUE
Freshly painted cabinets can add value to your home. So, when it comes time to sell, you can command the highest price possible thanks to a kitchen cabinet painting. And since a cabinet painting is an affordable investment, you'll easily make back the cost of the job thanks to your increased property value.
HAVE YOUR KITCHEN CABINETS PAINTED BY AN EXPERIENCED PAINTER
To enjoy all of the benefits that a kitchen cabinet painting can provide, have your cabinets painted by an experienced professional cabinet painting company. And with over 15 years of experience in the industry, we at Brabhams Cabinet Painting have all the experience needed to provide a quality kitchen cabinet painting!
Ready to enjoy all the benefits that freshly painted kitchen cabinets can offer? Then call us today for an affordable, top-quality kitchen cabinet painting!
If you are looking for Charleston or Mt. Pleasant cabinet painting, then please call 843-731-1821 or complete our