Painting Your Cabinets Yourself vs. Calling On a Professional Cabinet-Painting Company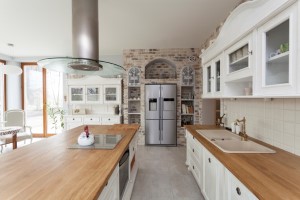 Your home should be beautiful and valuable, and one of the most economical ways of achieving this is a cabinet painting.
But don't get so carried away with the "economical" side of this job that you try to do it yourself. Sure, you might shave a few bucks off the final cost, but is that saving enough to justify the hassle and potentially bad final product?
If you're not sure what the risk versus reward is, our quick guide will tell you why you might be better off hiring a professional cabinet painter:
YOU MIGHT NOT HAVE THE RIGHT EQUIPMENT
Painting cabinets requires a little more than simply painting walls. You need a variety of equipment, a lot of which you might not have lying around:
Scapers
Sanding blocks
Wooden support blocks
Drop cloths
On top of that, you need specialized paint that's made for cabinetry, and this paint is oftentimes much costlier than regular paint like you might use for your walls.
If you don't already have all of those materials, you might wind up spending close to what you would if you hired a professional. Hardly worth the effort, right?
THE END RESULTS MIGHT BE POOR
Of course, the frustration of going out and buying all of that equipment can be forgotten in the end as you get to enjoy beautiful, like-new cabinetry.
But what if those end results are not beautiful? What if, instead, you wind up with a paint job that's streaky and flaky and generally unpleasant to look at?
In that case, all of the effort still wouldn't be worth it. And that unpleasant final result can be likely if you don't know the right way to use all of that costly equipment.
YOU CAN AVOID THE HEADACHE BY CALLING A CABINET-PAINTING COMPANY
Painting your cabinets yourself: You risk losing an afternoon cobbling together all the materials and then winding up with a shoddy final product.
Hiring a professional cabinet painter: They already have the equipment and know-how to provide a great final product while you relax and wait for beautiful cabinets.
Don't endure the hassle and disappointing final product. Instead, call a professional cabinet painting company to handle the work for you. And if you live in or around the Charleston area, that company should be Brabhams Cabinet Painting.
With our 15-plus years of experience and dedication to quality work, we can provide you with a beautiful cabinet painting for a great price in no time flat!
If you are looking for Charleston or Mt. Pleasant cabinet painting, then please call 843-731-1821 or complete our