Having Your Cabinets Replaced vs. Having Them Painted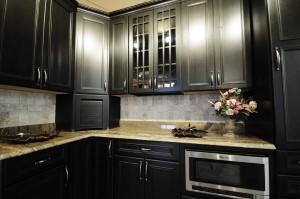 You'll use your kitchen and bathroom every day, multiple times a day, and since you'll spend so much of your time in them, they should be beautiful rooms to spend so much of your time.
And an all-encompassing way to get those rooms looking their best is to get one of their most useful and most prominent installations looking great: the cabinets.
To do this, you have a couple of options: replacing them and repainting them. But which option do you pick? Well, that answer depends on how much money, time, and hassle you're willing to put in and put up with.
COST
If cost is the biggest factor in this decision, then having your cabinets painted is the clear winner here.
Costing, on average, about $1000, a cabinet painting is far more affordable than a full-blown replacement, which often starts at $1000 and can go for upwards of $9000.
A beautiful kitchen and bathroom are important, but are they $9000 important? For most homeowners, the answer is a solid "no!" If you want beautiful cabinets for the best price, opt for an affordable painting.
TIME
People are always zipping here and there to handle work and all other commitments, and many of us are hard-pressed to give our limited time to anything but what's absolutely necessary.
For this reason, you might be reticent to getting your cabinets entirely replaced. The process can take upwards of a week as your contractors have to gut, measure, cut, and install your cabinetry.
A cabinet painting, on the other hand, is far less involved and, thus, takes far less time to complete. If the length of the job is a deciding factor for you, a cabinet painting will win hands down.
HASSLE
A commitment that takes a lot of money and time might not always be a major deterrent to those who have the resources to handle the inconvenience.
However, no matter how well-off anyone is, nobody likes hassle. And a cabinet replacement offers plenty of that as your kitchen and bathroom become construction zones that are all but unusable during the process.
A cabinet painting, on the other hand, is less involved than that. You can't use your cabinets in that time, of course, but your kitchen and bathroom won't be overrun with workers and heavy equipment, making a cabinet painting the clear winner for those looking to avoid hassle.
GET YOUR CABINETS REPLACED BY AN EXPERIENCED COMPANY
If this list has convinced you that a cabinet painting will be your best option for getting your cabinets looking beautiful and new, have that job handled by an experienced cabinet painting company.
And here in Charleston area, that company should be Brabhams Cabinet Painting. With our 15-plus years of experience and our dedication to quality work, we can provide the most affordable and highest-quality cabinet painting around!
If you are looking for Charleston or Mt. Pleasant cabinet painting, then please call 843-731-1821 or complete our