Painting Your Cabinets: What Are the Big Benefits?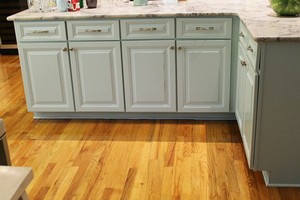 Are you on the fence about getting a cabinet painting? After all, this job costs money, and you might wonder if it's worth spending the money just to get your cabinets looking fresh and new. However, you would be wrong in that assessment. After all, a cabinet painting can provide a wealth of great benefits that you'll enjoy for a long time to come.
A professional cabinet painting will benefit your Mt. Pleasant area home in a variety of great ways: aesthetic, practical, and otherwise. For a high-quality job, call the local cabinet painting experts at Brabhams Cabinet Painting. Our quality work will help you fully enjoy all the great benefits that this service can provide:
A More Beautiful Home
You'll spend much of your time right in your home and you should make sure it's time you'll enjoy. To get the most enjoyment out of your at-home time, you should strive to make your home look as beautiful as possible. After all, beautiful sights make a place that much more enjoyable.
If you're thinking of ways to add extra beauty to your home, then look into getting a cabinet painting. Used, dirty cabinets can greatly take away from the overall beauty of your home. However, by having them freshly painted, your home will look beautiful and new in no time at all.
---
Better Resale Value
At some point down the road, there's a good chance you'll want to sell your home. This, of course, means you're going to want to bolster its resale value. Unfortunately, as your home's installations begin to wear down over time, your home's resale value is also likely to take a dip.
So, you need to get a head on sprucing up your home so that it's ready to command the best possible price down the road. A great start to that is to get your cabinets painted. Since your cabinets are likely to suffer more use and wear than many other installations, a fresh coat of paint will prove necessary for retaining your home's appearance and value.
Longer Cabinet Life
Your cabinets are an important installation, one which you'll use every single day. Unfortunately, since many of them remain exposed to water sources, they are at an increased risk of wearing down through the years. In time, you may find yourself left with worn-out cabinets that need to be replaced.
Fortunately, you can stave off this costly headache by keeping up with your cabinets' paint job. A paint job will provide extra protection against moisture, helping to maintain your cabinets so that you can enjoy them for many years to come.
We take great pride in our work and in being able to help our clients create the kitchen of their dreams. High-quality materials, fair pricing and superior results are what we can promise you.
---
If you are looking for Charleston or Mt. Pleasant cabinet painting service areas, then please call 843-731-1821 or complete our